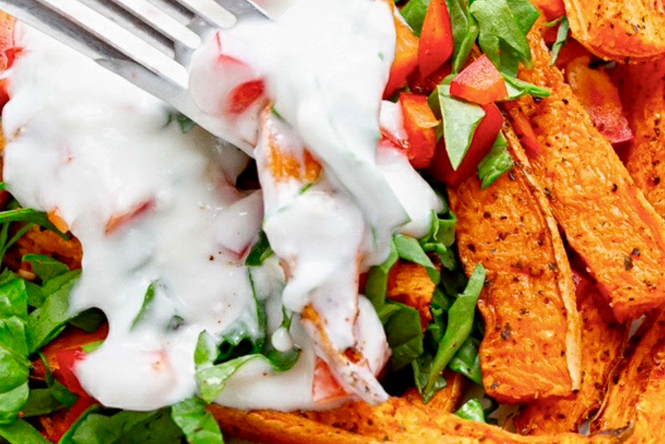 2 Sweet Potato (medium, sliced into ¼ inch strips)

1 tbsp Extra Virgin Olive Oil

2 tbsp Taco Seasoning

Sea Salt & Black Pepper (to taste)

½ cup Baby Spinach (thinly sliced)

½ Red Bell Pepper (medium, diced)

¼ cup Unsweetened Coconut Yogurt (optional)
Directions
Preheat oven to 425ºF (220ºC) and line a baking sheet with parchment paper.
Toss the sweet potato with the oil, taco seasoning, salt and black pepper on the baking sheet and space out the pieced evenly being sure not to crowd the pan. Bake for 25-30 minutes, flipping halfway through.
Transfer the sweet potato fries onto a plate and top with the baby spinach, red bell pepper, and coconut yogurt (optional). Enjoy!
Leftovers: Refrigerate in an airtight container for up to two days. Reheat in the oven for best results.
Additional Toppings: Tomatoes, ground beef, shredded cheese, or green onions
Additional Toppings: Add goat cheese or feta cheese.
Amount per serving
Calories
409
Fat
16g
Saturated
3g
Trans
0g
Polyunsaturated
2g
Monounsaturated
10g
Carbs
64g
Fiber
11g
Sugar
15g
Protein
6g
Cholesterol
0mg
Sodium
680mg
Potassium
1086mg
Vitamin A
40156IU
Vitamin C
86mg
| | |
| --- | --- |
| Calcium | 242mg |
| Iron | 3mg |
| Vitamin D | 0IU |
| Vitamin E | 4mg |
| Vitamin K | 88μg |
| Thiamine | 0.2mg |
| Riboflavin | 0.2mg |
| Niacin | 2mg |
| Vitamin B6 | 0.7mg |
| Folate | 85μg |
| Vitamin B12 | 0.7μg |
| Phosphorous | 145mg |
| Magnesium | 84mg |
| Zinc | 1mg |
| Selenium | 2μg |