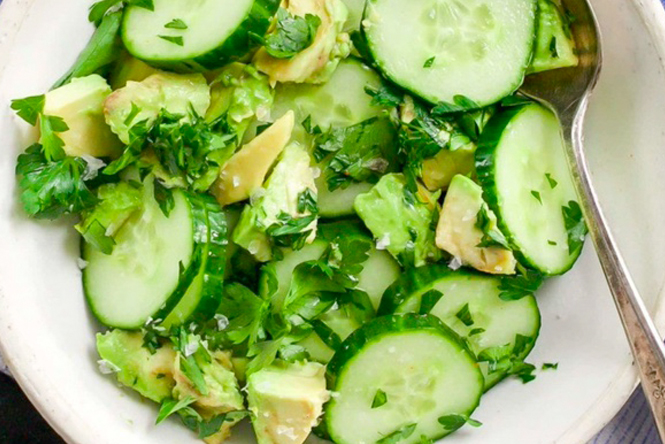 ½ Cucumber (sliced)

½ Avocado

1 ½ tsps Lemon Juice

1 tbsp Parsley (chopped)

1/8 tsp Sea Salt
Directions
In a bowl, add the cucumber, avocado, lemon juice, parsley and sea salt and toss to combine. Enjoy!
Leftovers: Refrigerate in an airtight container for up to two days. For best results, cut and add the avocado just prior to enjoying.
More Flavor: Add chili flakes or cayenne (note these spices are warming foods and can trigger hot flashes).
Additional Toppings: Nuts, seeds, and additional vegetables.
Amount per serving
Calories
186
Fat
15g
Saturated
2g
Trans
0g
Polyunsaturated
2g
Monounsaturated
10g
Carbs
15g
Fiber
8g
Sugar
3g
Protein
4g
Cholesterol
0mg
Sodium
307mg
Potassium
738mg
Vitamin A
625IU
Vitamin C
22mg
| | |
| --- | --- |
| Calcium | 42mg |
| Iron | 1mg |
| Vitamin D | 0IU |
| Vitamin E | 2mg |
| Vitamin K | 108μg |
| Thiamine | 0.1mg |
| Riboflavin | 0.2mg |
| Niacin | 2mg |
| Vitamin B6 | 0.3mg |
| Folate | 99μg |
| Vitamin B12 | 0μg |
| Phosphorous | 91mg |
| Magnesium | 51mg |
| Zinc | 1mg |
| Selenium | 1μg |