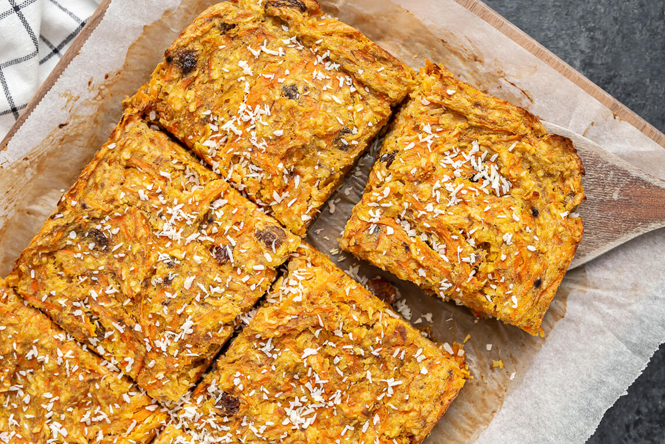 1 ¾ cups Canned Coconut Milk

3 Banana (medium, ripe, mashed)

½ tsp Baking Soda

6 Carrot (medium, shredded)

¾ cup Unsweetened Shredded Coconut (plus more for garnish)

½ cup Raisins
Directions
Preheat the oven to 350ºF (175ºC). Line a baking dish with parchment paper.
In a large bowl, stir together all the ingredients until well combined. Transfer the baking dish and spread evenly.
Bake for 55 minutes.
Garnish with shredded coconut (optional). Slice and enjoy!
Leftovers: Refrigerate in an airtight container for one week, or freeze in individual portions if longer.
Serving Size: One serving equals one square. A 9 by 13-inch baking dish was
used to make six servings.
More Flavor: Add cinnamon, nutmeg, vanilla extract, or your sweetener of choice and/or a pinch of salt.
Additional Toppings: Walnuts, whipped coconut cream, yogurt, or ice cream.
Coconut Flour: This recipe was developed and tested using Bob's Red MillCoconut Flour. If using another type of coconut flour, note that results may vary.
Amount per serving
Calories
329
Fat
20g
Saturated
18g
Trans
0g
Polyunsaturated
0g
Monounsaturated
0g
Carbs
37g
Fiber
7g
Sugar
21g
Protein
4g
Cholesterol
0mg
Sodium
182mg
Potassium
615mg
Vitamin A
10228IU
Vitamin C
9mg
| | |
| --- | --- |
| Calcium | 34mg |
| Iron | 1mg |
| Vitamin D | 0IU |
| Vitamin E | 0mg |
| Vitamin K | 9μg |
| Thiamine | 0.1mg |
| Riboflavin | 0.1mg |
| Niacin | 1mg |
| Vitamin B6 | 0.3mg |
| Folate | 24μg |
| Vitamin B12 | 0μg |
| Phosphorous | 48mg |
| Magnesium | 28mg |
| Zinc | 0mg |
| Selenium | 1μg |