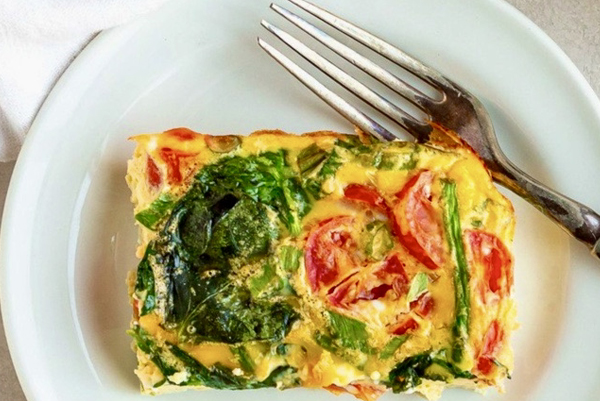 1 1/2 tsps Extra Virgin Olive Oil (divided)

Red Bell Pepper

2 cups Baby Spinach (chopped)

1/2 cup Cherry Tomatoes (halved)

3 stalks Green Onion (chopped)

8 Eggs

1/2 cup Water

1/2 tsp Sea Salt
Directions
Preheat the oven to 400ºF (204ºC). Grease a baking dish with half of the oil.
Add the remaining oil to a pan over medium heat. Add the peppers and cook for about five minutes or until just tender and starting to brown. Add the spinach, tomatoes, and green onion. Continue to cook until the spinach wilts. Transfer the vegetables to the prepared baking dish and arrange them in an even layer.
Add the eggs, water, and salt to a bowl and whisk well. Pour the egg mixture into the baking dish.
Bake for 23 to 25 minutes or until the eggs have set and are firm to touch. Cut into squares and enjoy!
Leftovers: Refrigerate in an airtight container for up to three days.
Serving Size: An 8.5- x 11.5-inch baking dish was used to make six servings. You can also make this in a 9 x 9-inch baking dish.
More Flavor: Use milk instead of water. Season the vegetables with your favourite dried herbs and spices.
Veggies: This recipe works well with nearly any vegetable. Use kale, steamed broccoli, cooked sweet potato, red onion, or mushrooms instead.
Amount per serving
Calories
117
Fat
8g
Saturated
2g
Trans
0g
Polyunsaturated
1g
Monounsaturated
3g
Carbs
3g
Fiber
1g
Sugar
2g
Protein
9g
Cholesterol
248mg
Sodium
302mg
Potassium
229mg
Vitamin A
2262IU
Vitamin C
31mg
| | |
| --- | --- |
| Calcium | 55mg |
| Iron | 2mg |
| Vitamin D | 55IU |
| Vitamin E | 1mg |
| Vitamin K | 61μg |
| Thiamine | 0mg |
| Riboflavin | 0.3mg |
| Niacin | 0mg |
| Vitamin B6 | 0.2mg |
| Folate | 64μg |
| Vitamin B12 | 0.6μg |
| Phosphorous | 147mg |
| Magnesium | 21mg |
| Zinc | 1mg |
| Selenium | 21μg |