This recipe is so fun to make with little ones. Children who are repeatedly exposed to veggies and fruits and helping out in the kitchen, are shown to carry that over into adulthood.
Be creative when making these and have fun. You can turn them into amazing little boats and bring joy for your little ones in the kitchen. Chances are if little hands go in to spooning the pulp back into their own boat potato, they'll be more willing to give it a taste even if they are the pickiest of eaters. Plus, these creations are gluten, grain, diary and egg free.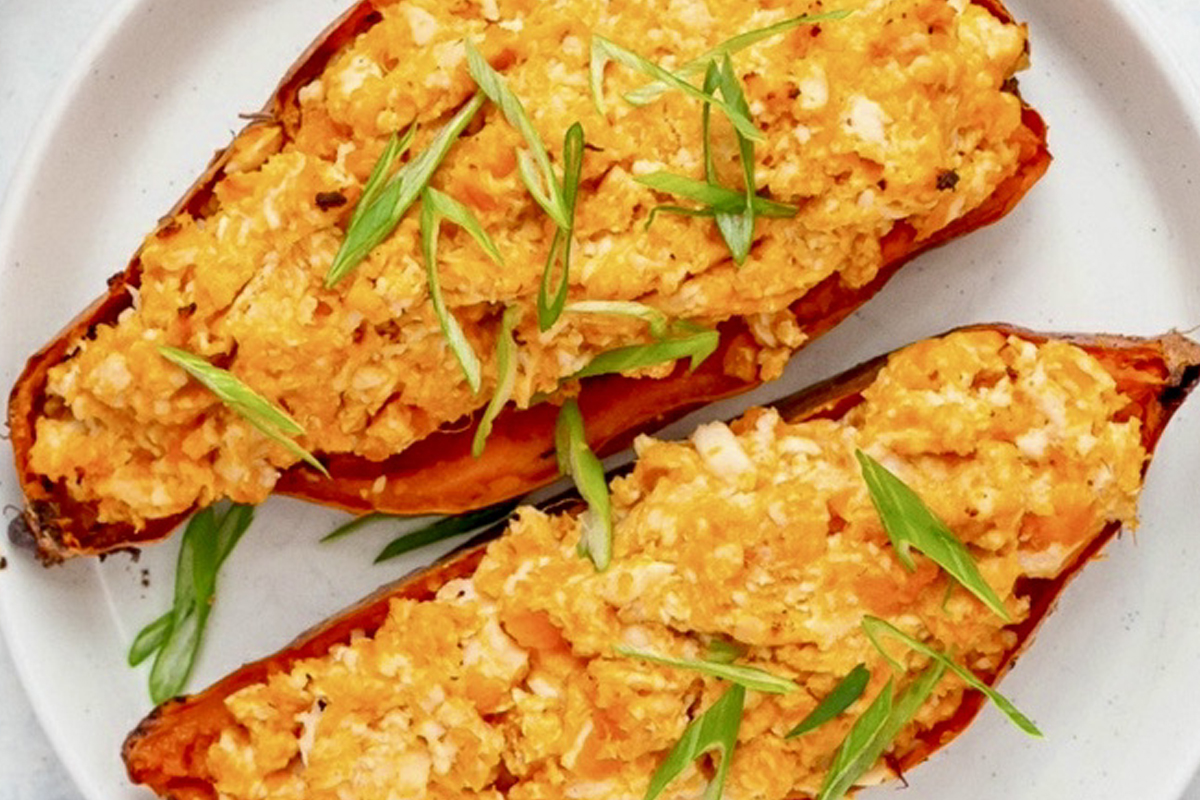 2 Sweet Potato (medium)

3 Garlic (cloves, minced)

1/4 tsp Sea Salt (to taste)

2 tbsps Water

1 tbsp Lemon Juice (to taste)

1 lb Chicken Breast, Cooked (shredded)

2 stalks Green Onion (chopped)
Directions
Preheat the oven to 400ºF (205ºC) and line a baking sheet with parchment paper. Cook the sweet potatoes for one hour or until fork tender.
Once cool enough to handle, cut the sweet potatoes in half and scoop out the flesh, leaving behind a little bit of flesh so the skin stays in tact.
In a food processor, combine the sweet potato, garlic, salt, water, lemon juice, and chicken. Process until mostly smooth.
Spoon the mixture back into the skins and bake for an additional 15 minutes. Garnish with green onions and enjoy!
Leftovers: Refrigerate in an airtight container for up to three days.
Serving Size: One serving equals approximately two stuffed sweet potato halves.
More Flavor: Add your choice of herbs and spices.
Additional Toppings: Top with cheese, vegan cheese, sour cream, or plain yogurt.
Amount per serving
Calories
466
Fat
7g
Saturated
2g
Trans
0g
Polyunsaturated
2g
Monounsaturated
3g
Carbs
29g
Fiber
4g
Sugar
6g
Protein
72g
Cholesterol
236mg
Sodium
487mg
Potassium
1369mg
Vitamin A
18996IU
Vitamin C
9mg
| | |
| --- | --- |
| Calcium | 67mg |
| Iron | 2mg |
| Vitamin D | 2IU |
| Vitamin E | 2mg |
| Vitamin K | 21μg |
| Thiamine | 0.4mg |
| Riboflavin | 0.6mg |
| Niacin | 28mg |
| Vitamin B6 | 3.0mg |
| Folate | 20μg |
| Vitamin B12 | 0.5μg |
| Phosphorous | 656mg |
| Magnesium | 113mg |
| Zinc | 3mg |
| Selenium | 66μg |