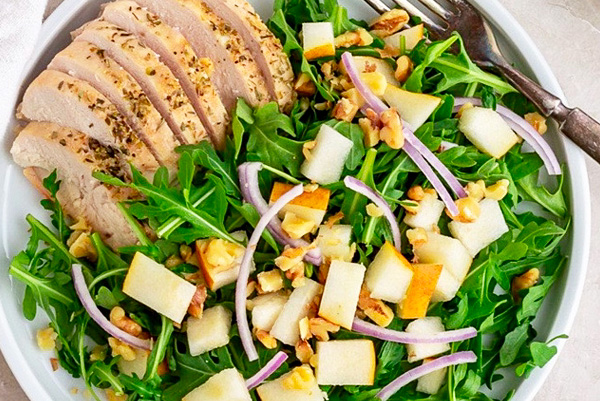 12 ozs Chicken Breast

½ tsp Italian Seasoning

4 cups Arugula

1 Pear (chopped)

2 tbsps Red Onion (thinly sliced)

1 tbsps Walnuts (finely chopped)

3 tbsps Balsamic Vinegar
Directions
Preheat the oven to 400ºF (204ºC). Place chicken breasts in a baking dish and season with salt and Italian seasoning. Bake for about 25 minutes, or until the chicken is cooked through. Let the chicken rest for five to 10 minutes then cut it into slices.
Meanwhile, divide the arugula between plates and top with the pear, red onion, and chopped walnuts. Drizzle with the balsamic vinegar and top with the sliced chicken. Enjoy!
Leftovers: Refrigerate in an airtight container for up to three days. Slice the pears just before serving for best results.
Nut-Free: Omit the walnuts or use sunflower or pumpkin seeds instead.
No Chicken Use salmon, shrimp, chickpeas, or tofu instead.
No Arugula: Use baby spinach instead.
No Pear: Use apple instead.
More Fat: Add extra virgin olive oil and mix with the balsamic vinegar.
Amount per serving
Calories
314
Fat
7g
Saturated
1g
Trans
0g
Polyunsaturated
3g
Monounsaturated
2g
Carbs
21g
Fiber
4g
Sugar
14g
Protein
40g
Cholesterol
124mg
Sodium
241mg
Potassium
875mg
Vitamin A
1023IU
Vitamin C
11mg
| | |
| --- | --- |
| Calcium | 93mg |
| Iron | 2mg |
| Vitamin D | 2IU |
| Vitamin E | 1mg |
| Vitamin K | 47µg |
| Thiamine | 0.2mg |
| Riboflavin | 0.4mg |
| Niacin | 17mg |
| Vitamin B6 | 1.5mg |
| Folate | 66µg |
| Vitamin B12 | 0.4µg |
| Phosphorous | 413mg |
| Magnesium | 82mg |
| Zinc | 2mg |
| Selenium | 39µg |